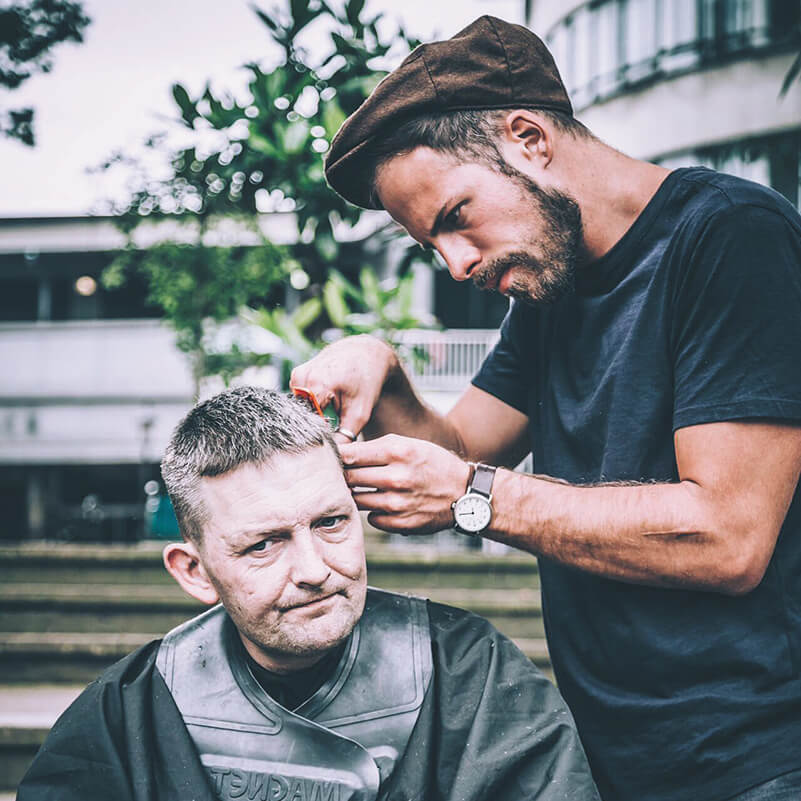 Hairdresser To The Homeless
(do something for nothing)
The Peckham-based social activist has been patrolling London's streets for three years, offering a free haircut to any homeless person who wants one.The 30-year-old listens as he snips, noting the names and stories of individuals routinely ignored by society, then posting their mini-biography — and "before" and "after" pictures — on Instagram.
"That's why I begin every post with: 'This is Stewart… this is Martin…'" Coombes says. "That's the first thing: let's give them their identity back. Then I hit rewind and tell their story."
The Devon-raised former punk guitarist launched a social media campaign,
#DoSomethingForNothing
 which encourages others to do as he's done: give over something, anything, to help people less fortunate. He's now active in 10 countries. His tonsorial trips funded by non-profits, charities, and brands.
Meanwhile, others have been inspired by #DoSomethingForNothing. Jade Statt, a Hertfordshire veterinarian, has launched Street Vet UK, which cares for homeless people's dogs; Chris Leamy, a Wall Street banker by day, has an evening gig going out and playing guitar for homeless people; and Paul Avila distributes "Walkmans and headphones to the inhabitants of Skid Row in downtown Los Angeles".
#DoSomethingForNothing is a movement that connects, encourages and inspires everyday people to carry out small acts of kindness and goodwill according to their particular skill, passing it on to those in need.
From humble beginnings, this global movement was originally initiated by British hair stylist Joshua Coombes in 2015. His desire, quite simply, was to positively impact people's lives by offering free haircuts to the homeless and in turn giving them back their dignity. By posting transformative images to his Instagram feed and telling the stories of those living on the street, Joshua is humanising this issue for others. With this online platform, he gives a voice to those that may feel unheard. His mission quickly caught the attention of media outlets worldwide. Including a BBC news video that gained 30M views on Facebook. This, coupled with growing social influence, was the foundations needed to translate and amplify the idea globally.
Recent coverage includes articles from The Washington Post and also appearing in National National Geographic's new series 'The Story of Us' with Morgan Freeman.